Monroe County was never far from Herb and Angie Caldwell's hearts, even when their home was.
Herb and Angie Caldwell first met while studying at Indiana University, where they fell in love and later married at IU's very own Beck Chapel. In 1987, they moved to Chicago for a job opportunity, and the couple stayed there for several years. During this time, Herb worked with a Michigan community foundation to support a revitalization project. Herb commented on this time, stating, "Watching how a Foundation worked to bring nonprofits in the community together to see their commonality and to bridge future collaborations became my first experience with the work in which a community foundation engages."
During their time away, Herb and Angie maintained connections with friends from Bloomington. So, when a friend encouraged Herb to apply for a job opportunity with the Kelly School of Business, they knew it was time to return home. Together, the couple has made the perfect home in Bloomington, where they take their dogs for long walks or bike to work.
Today, Herb works as an Investment Operations Manager at the IU Foundation. Angela is a jewelry designer and teaches metalsmithing and jewelry at the IU Eskenazi School of Art, Architecture + Design.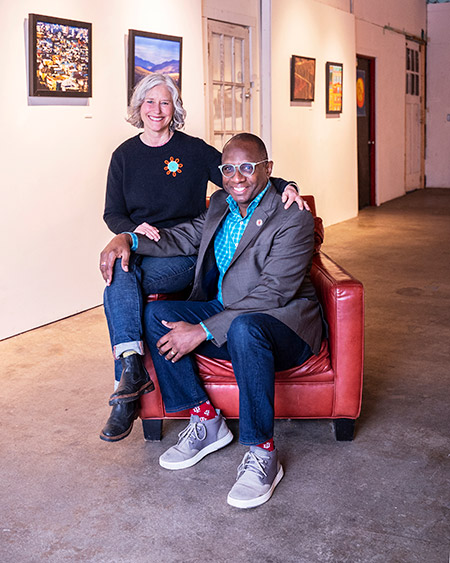 Herb and Angie still stroll by Beck Chapel, a precious piece of their love story, with their two beloved dogs.
Herb recounts their frequent walks, sharing, "It's cool to look back and realize I was studying here 30 years ago. There's still a lot here that I remember from my time as a student at IU. Of course, they tweak things a bit here and there, but for the most part, the community remains timeless."
Herb continues to be an active community member through local organizations. Herb has a reputation for knowing the community well enough to recognize and address its needs. It made sense that Brian Yeley, President of the Community Foundation Board and a friend of Herb's, reached out in 2018 to recruit him as a board member for the Community Foundation. "Brian said to me, 'Herb, you're always out and about,'" Herb laughed while continuing, "You're pretty into the community here. You should join the board at the Community Foundation."
"This is the community where I grew up. Even when I wasn't living in Bloomington, Angie and I would talk and dream of the day that we could return. Now that we're home, we are committed to doing our part to better Bloomington."
As they got more involved with the Community Foundation, Herb and Angie knew that they wanted to open a fund through the Foundation. The Caldwells chose to establish an unrestricted endowed fund over other fund options to serve the ever-shifting, always-pressing needs of the community. Herb shared that their motivation to start an unrestricted fund stemmed from a strong desire to invest in Bloomington, saying, "Putting dollars back into the community in which you live is important. For those of us who are fortunate and can give back, we should give back and be generous."
Herb explained his unique perspective on the Herbert and Angela Caldwell Community Endowment Fund, "I have experienced the impact of unrestricted dollars during my time as a development officer at IU in fundraising roles."
"Throughout my time, I often met with donors wanting to establish a scholarship; we would talk about making it unrestricted, but usually, the donor would have a specific requirement they wanted the applicant to fit. Their hearts were always in the right place, but when it was too restricted, their money might sit dormant. Whereas, if unrestricted, it can always be utilized, no matter what, because there will always be immediate needs. Sometimes, nonprofits have to shift their focus, so what do you do when you need to change how you deliver your services for the greater good? Things like pandemics happen, and we all know that now. We need unrestricted funds to help us in those times as we adapt."
Herb and Angie continue to be passionate about supporting Bloomington as seasons shift, needs emerge, and services transform.
Herb continues to live up to his reputation as an engaged member of the community by learning more about the nonprofit environment, supporting organizations like Mother Hubbard's Cupboard and WFHB Community Radio, and passionately collaborating for social issues such as food security, affordable transportation, affordable housing, education, and job opportunities.
The Herb and Angela Caldwell Community Endowment Fund is living up to their vision as well. Their fund is invested for long-term sustainability, growing each year into a more impactful tool to improve Monroe County.
Herb offers advice to others considering funds to improve the community: "Do it. Jump in. Contribute. Be a part of the solution. Your future family will proudly recall the decisions you've made and still be able to see the community benefit from a fund you started years ago. It's a way to leave a lasting legacy."