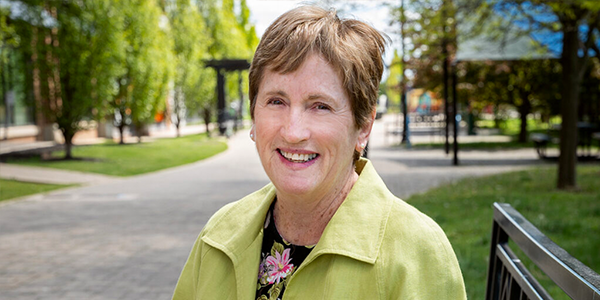 From the beginning of her career, Peggy Frisbie knew she wanted to give back to her community and encourage others to do the same. In 2021, she retired after a dedicated 38-year career as a caring and knowledgeable estate planning attorney and as legal counsel to charitable organizations and other nonprofits.
Along the way, Peggy became involved with the Community Foundation of Bloomington and Monroe County.
Her journey to becoming one of the Foundation's strongest advocates began in her 20s. After graduating from Northwestern University with a degree in journalism, and reporting for several newspapers, Peggy became head of publications and public relations for Centre College in Kentucky. Her interest in charitable giving developed there as she worked to support the college's efforts to increase donor support.
When Peggy decided to pursue law school, she knew she wanted to help serve various needs in the charitable giving world, from helping individuals and families to consider giving in their estate planning, to helping visionary community leaders start and grow charitable, nonprofit organizations that could turn their visions into reality.
After completing her J.D. at the University of Kentucky Law School, Peggy returned to her hometown of Chicago with her husband, Richard Frisbie, and joined the estate planning practice group of Sidley Austin, a major international law firm. While there, she was engaged in planning for individuals and families with significant wealth and, importantly, also developed expertise in the law of charitable giving and nonprofit organizations.
The Frisbie family moved to Bloomington a few years later, and Peggy subsequently began working for Bunger & Robertson. In her 29 years with this Bloomington law firm, Peggy has impacted individuals and organizations in Bloomington and the surrounding counties for generations through her work in planning for their estates, retirement needs, asset transfers, charitable giving, business transitions, and more.
While working at Bunger & Robertson, Peggy soon became aware of the Community Foundation and its mission. Her involvement as a volunteer began with service on the Community Foundation's grants committee for two years. She then became a member of the Board of Directors for ten years, beginning in 2010, and ultimately served as Chair of the Board from 2016-2018.
During these years, Peggy also served on the development committee, executive committee, and finance committee. She helped with the creation of the Professional Advisors Council, which connects legal professionals engaged in estate and trust planning, financial advising, and charitable giving with the Foundation. Peggy also helped initiate the Foundation's Charitable Gift Annuities program, which provides a powerful giving vehicle for community members to create an impact.
Peggy reflected on the progress she witnessed, saying: "The Community Foundation has matured not only to the point that I thought it should be but beyond that. During my time, we have had two Lilly Endowment matching campaigns, the creation of Regional Opportunity Initiatives, and the launch of the Impact Investing program. The Foundation is a model for other community foundations in its stewardship of its gifted assets and leadership of collaborative community initiatives. The Community Foundation has far exceeded my original hopes."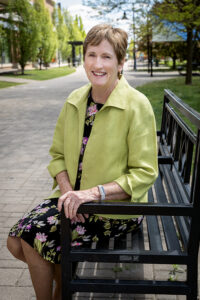 After a few years with the Community Foundation, Peggy and Richard decided to start their own fund in 2015. Peggy and Richard agreed that they wanted to open an unrestricted endowment fund named the Frisbie Family Fund.
Peggy discusses their decision: "One thing that I've seen within organizations is a need for unrestricted dollars. We're talking about a fund that is endowed, something going into perpetuity, meaning it can flex with the times. In my roles here and back in Chicago, I have seen situations in which the charity can no longer use an endowed fund because of the donor's restrictions on those dollars. I wanted my fund to be unrestricted because I have seen the need for organizations to have flexibility firsthand. Unrestricted funds, for me, are critical for a strong nonprofit."
Choosing to create an unrestricted endowment fund means the Frisbie Family Fund will be used by the Community Foundation for a wide array of grantmaking to address Monroe County's pressing needs, with the flexibility to seize compelling opportunities, both now and forever.
In a few short years, the Frisbie Family Fund has granted out more than the original investment that Peggy and Richard made. "My heart is here in Bloomington," Peggy said. "My view is that the impact of our dollars is so much greater here than it might be if we were to support a similar charitable interest at a national level or elsewhere. The Community Foundation reaches people who are right here."
In addition to establishing their fund, Peggy made a planned gift by naming the Foundation as a beneficiary of her retirement plan. Her planned gift will create another endowment fund to provide mental health services in our community, a cause she feels is critical to the well-being of our residents.
As someone with over 30 years of experience in legal counseling for and about charitable giving, Peggy is still very passionate about sharing easy ways to give back to others. "There are simple ways to benefit our community through the Community Foundation, such as naming the Foundation as beneficiary of a portion of your estate, retirement account, or life insurance," she said. "Any of us can also consider making qualified charitable distributions each year from IRAs, creating a charitable gift annuity, or making gifts of stock or other assets. These gifts can fund your own unrestricted named fund, a fund dedicated to the cause you care about, or a fund for which you be advising on its use. All of these are more straightforward than you might think."
While contemplating how her work with the Community Foundation changed her experience as a Bloomington resident, Peggy shared, "I am not only so much more aware of community issues and needs but also the people involved in them. Sometimes, it's not in the headlines. I am more aware of what is going on behind the scenes to resolve these issues, especially issues like the needs of low-income families, affordable housing, and mental health challenges. It takes time to achieve impact, and the Community Foundation is operating on that long-term vision."
Peggy summarizes why she supports the Community Foundation's work and mission: "I have always loved the fact that the Community Foundation can be a repository for dollars that can do good works in perpetuity. The Foundation consistently has had community members devoted to Monroe County as stewards for these funds. We're going on 32 years for the Community Foundation, and the very first dollars from its founding are there and working. Let's continue building this good work for many years to come."