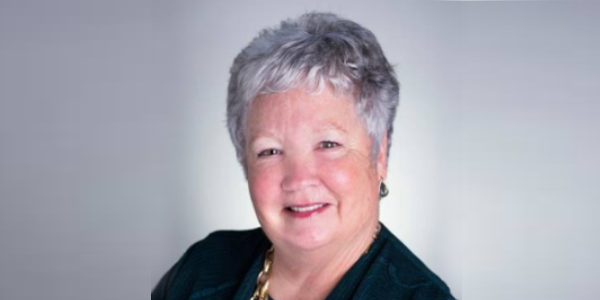 For Katie Grove, the idea of helping people isn't just a conviction; it's in her DNA.
Her career path providing health care to athletes led her to Monroe County in 1990. After finishing her Ph.D. at the University of Missouri in Human Performance, Katie arrived at Indiana University with a split academic and athletics appointment.
Her professional career has included roles as an athletic trainer for collegiate women's and men's sports, as Athletic Training Program Director, and later as the Director of Undergraduate Studies in Kinesiology at IU's School of Public Health. These roles helped shape her most revered personal values of "fairness, respect, and integrity" - values that extended beyond her professional career and into the community.
Those values attracted Katie to Court Appointed Special Advocates of Monroe County (CASA). As an athletic trainer, Katie helped athletes recover from injury. She was drawn to CASA because it also serves in "a helping field." She completed the CASA training program and began working with children in need of support during some of the most anxious times in their young lives.
As an advocate, Katie has worked for several children during her involvement with CASA. Every experience Katie had was different in terms of the circumstances that brought these children into challenging situations. Seeing and sensing those small moments of relief and support that CASA can have on a child was incredibly impactful.
Katie's connection with CASA really clicked when witnessing first-hand circumstances of children lacking many opportunities that had been available to her. That realization made CASA's mission even more poignant. "When I think about the integrity of CASA, it stands for something, and stands by something. Advocates work hard, and there is a lot of trust. All of those are things that I consider part of my values."
While Katie was unable to continue active advocate involvement, she always considered CASA as a place full of wonderful people that genuinely care about serving the community's most vulnerable children.
Katie wanted to continue to support CASA's mission. She began having conversations with her family about who she should designate as beneficiaries of her estate. After getting a sense that her family was well situated in their lives, she decided that a planned gift was a great opportunity "to support the things that I felt strongest about and have embedded in my heart."
After a simple process to establish her will with her financial advisor and attorney, Katie is confident that everything is in place to leave a lasting legacy to the organization she holds close to her heart.
Because CASA has established a permanent endowment at the Community Foundation, Katie has the assurance that her charitable bequest will continue to support Monroe County children in need, every year, forever.
And Katie's gift doesn't only make a difference in others' lives; it brings her joy knowing that she is continuing a legacy left by her own parents. She hopes her legacy gift decision will inspire others to give and experience that joy as well.
Learn more about charitable bequests