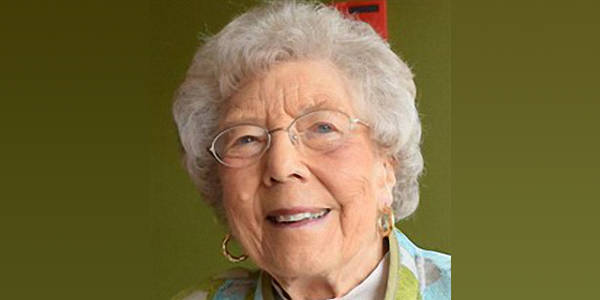 Throughout her life, Jean Langbak helped others advance their careers, families, and communities. Her legacy now lives on through a gift from her estate of more than $145,000 to the Community Foundation's Unrestricted Endowment Fund and the Boys and Girls Club Endowment Fund at the Community Foundation.
Born in South Dakota during the Great Depression, Langbak and her family moved to Logansport, Indiana as a teenager. After graduating from Logansport High School in 1941, Jean began a career as an operator with Indiana Bell Telephone Company. During her time there she was promoted to supervisory roles becoming the first female district manager in the company's history. She remained with the company after it was purchased by AT&T and relocated several times around the state.
Longtime friend Denny Smith first met Jean as a colleague at Bell Telephone. Denny described Jean as "a strong, independent, and effective manager in the workplace. She was a very caring person, so focused on being responsible for herself." She eventually took a position in Bloomington where she retired from the company and made the city her home.

Denny later went on to become Jean's professional financial advisor and worked with her on how she could create a philanthropic legacy with her estate. Because Jean wanted to broadly support a number of the organizations, Denny and Jean's attorney Tom McGlasson suggested the Community Foundation, which could put her gift to work through a number of local nonprofits to meet the community's most pressing needs. She could also designate a portion of her gift specifically to the Boys and Girls Club through an agency endowment at the Community Foundation.
Jean's gift will distribute grants to the Boys & Girls Club every year to support its mission in Monroe County. Her gift to the Community Foundation Unrestricted Endowment Fund will annually provide strategic grantmaking funds to address Monroe County's most pressing needs and compelling opportunities.
Jean's legacy will significantly impact the local community and enhances the Foundation's $32 million+ endowment. "This is one of many gifts that have advanced the Community Foundation toward a goal set in 2012 to double our endowment to $40 million by 2022," said President and CEO Tina Peterson. "Through careful stewardship, wise financial management, and informed grantmaking strategies, the Foundation is well equipped to honor the intentions of the growing number of donors, like Jean, who have entrusted us with planned gifts. We are honored to serve in this trusted role for the benefit of our community." For more information on making a legacy gift, contact Development Director Meagan Niese.